Meet Micah Kay and Grace
Meet Micah, Kay and Grace: Just a handful of our favorite Shelter pups waiting for their own big day: the day they'll find their forever homes! Like all satos, each of them have their own special back story and quirks. And (like all satos) they are each lovable and have the same goal: to make us happy!
Since August 18th is Clear the Shelters Day, all sato adoptions now through August 18th are only $50. Let's meet Kay and Mercy, two doggies waiting for their chance at a family…
Kay: A crazy girl looking for love <3
Kay is hand-down the most attention-grabbing dog at the Shelter! She's also generated much social media interest and is really a "twitter" all through the Shelter. She loves following whomever happens to be near her, and is just an energetic bundle of love in need of a home all her own.
Here is Kay's own special Adopt-me video made by one of our volunteers and one of Kay's favorite peoples!
To see more videos like these, follow us on Facebook!
(If you already are following us and wondering why you didn't see this video, make you set your setting to see all our posts: Click the Follow button under our cover photo; Check the box marked "See First." Thanks!)
Back to Kay…
A Twitter follower recently generated this lovely poster (and others!) to help get Kay adopted. We love them and thought we'd share.
Cud Kay put her paws up in your home? Can she snuggle up on yur sofa? She wood luff yu furever. Haf yu got room in yur heart & home fur her? She is reddy & waitin fur yu tu make enquirys @ADLAPuertoRico Visit da website fur details #PuertoRico https://t.co/VEFZ1s2st6 #k9hour pic.twitter.com/Ey07h6GK10

— 🌞🐾🍦 Millie 🍦🐾 🌞 (@MillieOTLFP) July 9, 2018
To see more of Kay and our other adoptable pups, follow us on Twitter!
DONATE NOW TO MAKE A DIFFERENCE IN A SATO'S LIFE.
Grace: Full of grace, she's a little lady: independent and sweet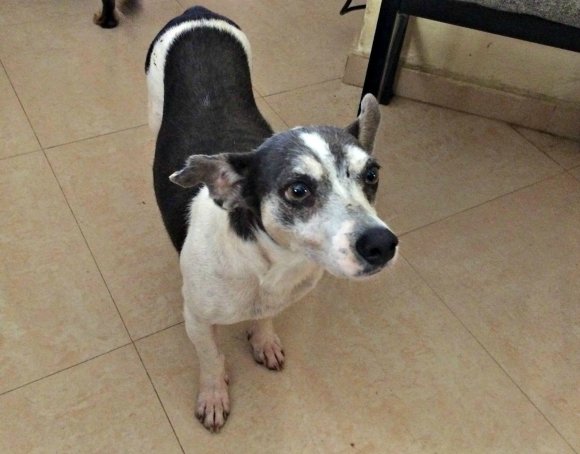 Grace is our quiet little love who we've had since mid-April. She's come out of her shell since then and seems to definitely be a "people" dog: in fact it looks like she might prefer people to her own species. We've received a couple adoption interests in Grace, but she's still waiting for that lucky someone.
Will it be you?
Micah: rescued with an open wound; we are happy to announce he is one step closer to his own Happy Beginning!
Our Shelter Director Adri was on her way back from grocery shopping for the shelter when she saw Micah on Route 187. He was sitting on a mount, perfectly content watching the cars pass by. When Adri approached, he wagged his tail and went up to her. She could see he had a horrible burn on the left underside of his belly, which had left his flesh open to possible infections. She immediately knew we had to take him.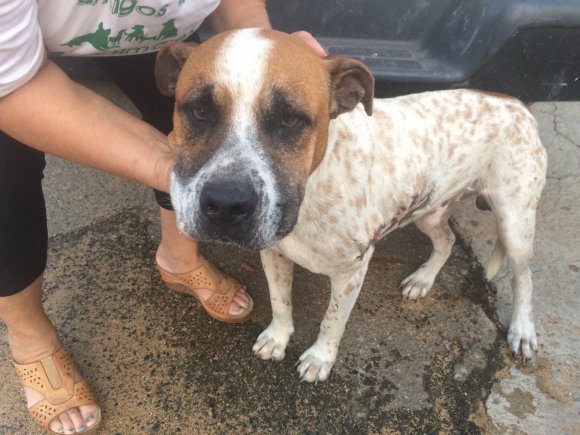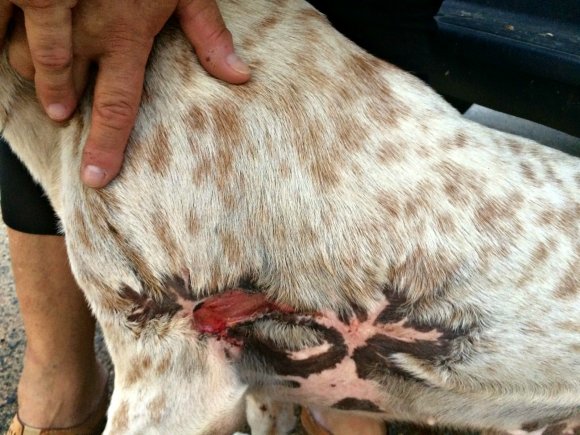 Micah was brought to the vet who medicated the wound and it is now almost healed over! Here is a picture of Micah two months after his rescue getting looked over by a veterinary assistant student from Edic College. On July 31st, Micah is set to make his forever flight to Hearts and Tails Alliance in New Hampshire. We look forward to sharing the first leg of the voyage with you!
DONATE NOW TO MAKE A DIFFERENCE IN A SATO'S LIFE.
We hope you enjoyed meeting Kay, Grace and Micah!
If you think you're the forever mom and dad that will change the world for one of our rescued dogs, email ela@amigosdelosanimalespr.org and we'll take it from there!
We are also looking for volunteers to give us a hand with getting our pets adopted on Clear the Shelters Day. Let us know if you are available!